Here's me just chillin' at my grandparents' house:
How lucky am I to be 36 and able to spend spring break with my grandparents? (or to have a spring break?) I am not, however, lucky to look like this hairless wombat. My grandpa told me that if he saw me out in public, he probably wouldn't recognize me. It's amazing how much a lack of brows and lashes affects your appearance. My right brow has two hairs, but the left side still has a decent amount (about a quarter of its usual quantity). There are a few lashes on each side. Plus, my T zone and the skin over my eyes is so dry that it constantly flakes (even with frequent applications of heavy duty moisturizer), and this also alters my overall look. (My three year old niece asked me, "Why do you have dots on your face?" in reference to the dusting of white flesh flakes that cover the central portion of my visage). My hair is coming back in soft little tufts, but this creates an unkempt, patchy look. A smooth, bald head looks better. Another chemo struggle that has reached its apex is my fingernails. Throughout my Taxol treatments, my nails have gradually thinned and yellowed, and now they are infected. A few days ago, I noticed the middle fingernail on my right hand STUNK. I've been feeling especially poisoned this last week, and the smell of decaying flesh coming from my own middle digit seemed a slap in the face. Mom and I went to an urgent care, and the nurse gave me some antibiotics. If those don't work, she said, then we'll know it's a fungal infection. (90's kids–>) Remember that scene in the movie The Witches when they all take off their wigs and gloves and expose their bald heads and gnarly hands? That's what I look like: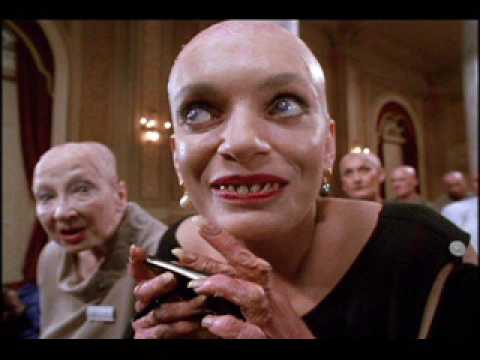 She may have better brows, but my dental situation is much better than what this witch is dealing with. However, my teeth and gums are sensitive right now. My left leg and arm are slightly swollen. My ears itch. My nasal cavity is dry and produces big, bloody boogers. I get hot flashes. Girl, you a mess.
Apart from my medical struggles, I'm enjoying my time in Eighty Four, PA visiting the grandparents. Last night at dinner, Grandpa (a.k.a. PawPaw) asked me if Nicki Minaj had butt implants. This was after he told me that Kim Kardashian's butt was just TOO big.
Tomorrow we'll visit Sarris Candy, a place that has captured my imagination since 1983. In one room there is a castle made of chocolate and candy that changes with the seasons, and in another area there is an exhibit of nearly life-sized stuffed animals: a bear, a giraffe, maybe a rhino, sometimes a lion. I'll have my Holden Caufield-in-the-Natural-History-Museum moment, and then I'll eat a Candyman's Dream: chocolate ice cream, hot fudge, and maple walnuts. I luuuuuuurve maple walnuts. Sick, chubby, and hairless: a glamorous trifecta that is my current life status.